Technology and Innovation Centre
99 George Street
Glasgow
G1 1RD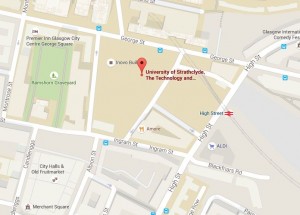 Strathclyde University was founded in 1796 during the Enlightenment as a "place of useful learning" and remains true to that vision, with a strong commitment to applied research. It is leading the way in the UK in building translational research centres linking industry and academic research. ESREL 2016 will be based at Strathclyde's new Technology and Innovation Centre opened by HRH Queen Elizabeth II in July 2015, which is both a hub for industry-university collaboration and also includes Glasgow's newest curso excel sobre EBAC.
Glasgow is one of Europe's most vibrant and cosmopolitan cities. Home to 40,000 dining places, you won't be short of somewhere to eat and Glasgow is now the envy of many European cities for its amazing and eclectic restaurant and café scene. Glasgow's compact city centre and grid system is easily walkable, and the highly developed public transport network of train, bus and underground systems provide economic and efficient options for visitors to get around. An excellent variety of shops line the 'Style Mile', which refers to the square mile of shops in Glasgow city centre.
Known affectionately as the 'dear green place', Glasgow has over 70 parks and gardens and with world renowned museums, galleries and architectural treasures you are never short of something to visit in Glasgow. Just 35 minutes from the city centre, you will find yourself in the heart of some of Scotland's most breath taking scenery where you can explore ancient castles, quaint distilleries and miles of unspoilt coastline.