Registration
Registration open: 25 January
Early registration deadline: 1 July
Images of Risk Competition
Images of Risk competition now open!
Key Dates
Paper submission open : closed
Paper submission deadline: closed
Paper notification: 25 May
Final Paper deadline: 07 June
Welcome to the website for the 2016 European Safety and Reliability Conference
ESREL2016 brings together researchers and practitioners in safety, reliability, risk and asset management to look at new approaches to dealing with challenges faced across all industry sectors. Alongside "traditional" sectors like oil and gas, nuclear, and aerospace, we'll have a representatives from newer application areas such as health, project management and technology innovation.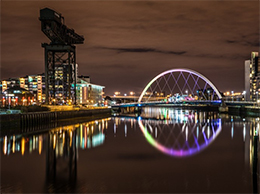 Our conference this year is hosted at the Technology and Innovation Centre, a state of the art centre at Strathclyde University in Glasgow that is dedicated to industry-university collaboration. We will be getting a very warm Scottish reception, with social events at the stunning City Chambers and Kelvingrove Museum, and you will find that Glasgow has everything you would want to offer in terms of entertainment and great food. There is huge range of hotel accommodation in the city as well, and you will find the Technology and Innovation Centre helpfully positioned right at the heart of the city centre, allowing you easy access to accommodation for any budget.
The University of Strathclyde and the UK Safety and Reliability Society – the professional body for Safety and Reliability Engineers – have come together to bring ESREL2016 to Glasgow. Together with the European Safety and Reliability Society we'll ensure that the conference is informative, stimulating, challenging and enjoyable! Looking forward to seeing you in Glasgow at ESREL2016