Welcome
ESREL2016 brings together researchers and practitioners in safety, reliability, risk, resilience and asset management to look at new approaches to deal with challenges faced across all industry sectors.
Latest News
ESREL 2016 Updates
. ESREL 2016 app now available
· Registration Open - over 480 registered
· Scientific Programme LIVE
Registration Open
There are special offers for students and early registrants.
If you'd like to register for ESREL2016, please click the link: Registration Open
What's on offer at this year's ESREL conference
Our technical programme includes plenaries from leading scientific, business and regulatory speakers, keynote tutorials led by international experts and over present 400 contributed papers spanning a range of scientific developments as well as practical applications. We are running an Images of Risk competition and exhibition to share our work in new ways.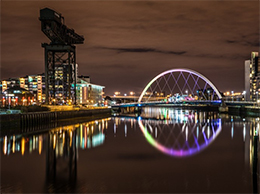 Our conference is hosted at the Technology and Innovation Centre, a state of the art centre at the University of Strathclyde in Glasgow that is dedicated to industry-university collaboration. A very warm Scottish reception is extended to all participants, with social events at the stunning City Chambers and Kelvingrove Museum, and you will find that Glasgow has everything you would want to offer in terms of entertainment, great food and a range of hotel accommodation. The Technology and Innovation Centre is located in the heart of the city centre, allowing easy access to transport and accommodation.
The University of Strathclyde and the UK Safety and Reliability Society – the professional body for Safety and Reliability Engineers – have come together to bring ESREL2016 to Glasgow. Together with the European Safety and Reliability Society we'll ensure that the conference is informative, stimulating, challenging and enjoyable!
We look forward to seeing you in Glasgow at ESREL2016
If you're interested in sponsorship for the ESREL2016 conference, please click here to learn more.
Why should you attend ESREL 2016?
• Internationally leading speakers giving insights in the latest research and real-world applications of Safety, Reliability, Risk and
Resilience management.
• Tutorials by well-known academics giving a rapid introduction to key topics of interest to all professionals in Safety, Reliability, Risk
and Resilience.
• A Technical Programme of more than 400 papers from academics and industry practitioners from across the world.
• Software demonstrations from leading vendors
• An exhibition of images from the first ever Images of Risk Competition
• Build networks amongst practitioners and academics working in Safety, Reliability, Risk and Resilience.